Your choice makes all the difference
Eau Biocompatible actively contributes to Aqua Dyn Auroville For The People®. By donating a portion of its profits, Eau Biocompatible is committed to financing new projects that provide access to quality water for as many people as possible.
Here you'll discover the full range of For The People®'s humanitarian projects, those already completed and those still to come. Aqua Dyn Auroville, by virtue of its creations, is fundamentally a human enterprise and seeks to bring the benefits of water to the most disadvantaged populations.
Eau Biocompatible is proud and privileged to be Aqua Dyn Auroville's exclusive partner in Europe, the United States, Canada and Africa, and to participate in the development of new projects.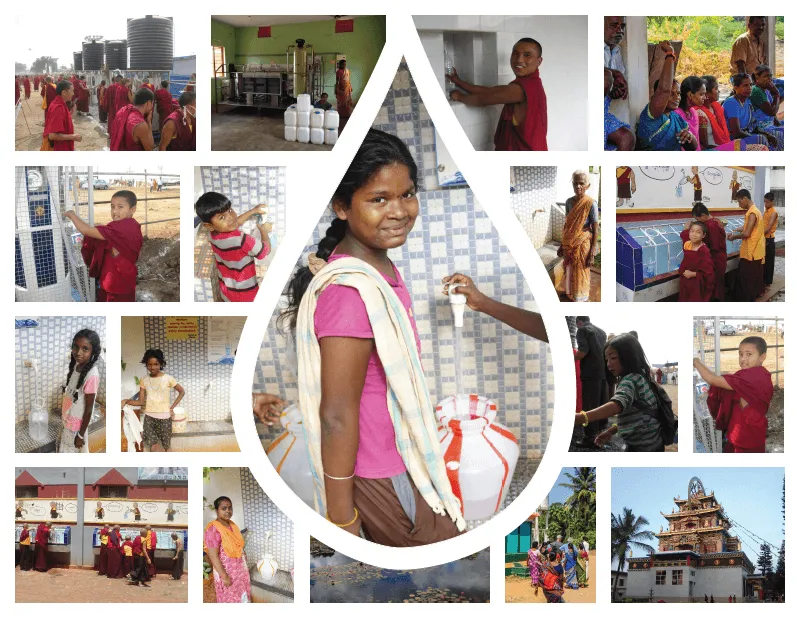 ACCESS TO PURE, LIVING WATER FOR ALL
From the outset, Aqua Dyn Auroville's mission has been to maintain and improve the health of populations through quality water, a resource essential to the lives of men and women throughout the world.
Through Aqua Dyn For The People®, we aim to go beyond simple "access to drinking water" to offer the poorest people the same opportunities as those in Western countries to drink water, and to offer their children water that not only doesn't make them sick, but also contributes to everyone's well-being.
We believe it is essential that money should not be a discriminating factor in access to quality water. Aqua Dyn For The People® is the health & humanitarian arm of Aqua Dyn Auroville.
ECOLOGICAL AND RESPECTFUL OF THE EARTH
At Aqua Dyn Auroville, we believe that an individual and collective commitment on the part of everyone can make an active contribution to preserving the planet.
Through an ecological approach, Aqua Dyn For The People® has set itself three main missions:
| | |
| --- | --- |
| 1. | Constant improvement in the technology developed by Aqua Dyn Auroville to offer consumers quality products that are also environmentally friendly. |
| 2. | A desire to give everyone access to pure, living water. Today, tap water undergoes intense chemical treatment to combat pollution. Aqua Dyn Auroville's fountains purify the water and restore its original properties. |
| 3. | Regular, daily use of Aqua Dyn Auroville's fountains helps to combat the pollution caused by plastic bottles on the market. |
A pilot project has accompanied this approach, making an Aqua Dyn Auroville fountain with individual glass bottles available in an organic store in Geneva. This concept provides an ecological solution to the incredible pollution linked to plastic.
If you're interested in our approach and would like to join the "Friends of Aqua Dyn For The People®" collective, contact us and we'll be happy to talk about it with you.
HUMANITARIAN PROJECTS ALREADY REALIZED
Aqua Dyn Auroville has been helping Tibetan refugees in northern and southern India for 18 years.
In India, Tibetan refugees are in a deplorable state of health. There is an urgent need to provide them with quality water. Thanks to the revenue generated by sales of Aqua Dyn Auroville fountains worldwide and the generosity of private donors who have placed their trust in us, Aqua Dyn Auroville, via its Aqua Dyn For The People® project, has equipped several Tibetan monasteries over the last twelve years.
For Tibetan refugees in northern India
After the tsunami in 2004
In the Auroville region
A pilot village, Polambakkam
For Tibetan refugees in northern India
● 40 Aqua Dyn Auroville fountains of various sizes are installed in Dharamsala, in the Himalayas, where the Tibetan government in exile is based.
● In Baïlakuppé, near Mysore, where some 25,000 Tibetan refugees live, several community fountains (up to 10,000 liters/day) have been installed near temples, in schools and dispensaries.
● At Bodhgayâ in northern India, the place where the Buddha received enlightenment, several facilities have been installed near the main temple.
Total budget for operations and collective donations: €190,000
Numerous Tibetan monks and nuns have testified to the benefits of daily consumption of this pure, energized water in improving their general state of health, particularly in the case of skin infections.
After the tsunami in 2004
In the Auroville region
A pilot village, Polambakkam
upcoming projects AND SUPPORT
On the strength of its research work and the results obtained on populations over the last twenty years, Aqua Dyn Auroville has linked up with a network of researchers in the biophysical and medical sciences to further investigate and objectify the impact of water and its benefits on the biological functions of the human body.
With Aqua Dyn For The People®, we are currently supporting a number of international, multi-disciplinary projects, as well as publications designed to inform the general public about the many beneficial developments that this "water and health" relationship can have.
If you're an expert or an industry player and would like to join us, please contact us.
In Katmandu, in the heart of Nepal
Sadhana Forest, Auroville
At M'Bour hospital in Senegal, near Dakar
In Katmandu, in the heart of Nepal
Under the impetus of an Indo-Nepalese couple deeply involved in a number of actions to help the most disadvantaged in Kathmandu, Aqua Dyn Auroville is currently organizing the installation of a public fountain with a capacity of around 10,000 liters/day. This fountain will provide an answer to the problem of unsanitary water in the Nepalese capital, particularly since the earthquake.
The financing requirement for this project is €40,000.
Help us respond to the emergency, information and support by clicking here.
Sadhana Forest, Auroville
At M'Bour hospital in Senegal, near Dakar